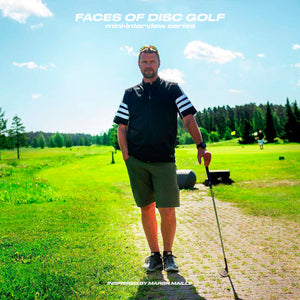 Faces of disc golf - Mika Niinimäki
Who are you?
I am Mika Niinimäki, 52 year old,
father of 3 adult kids. 
I'm currently working as a CEO of a golf center.
And of course a disc golfer.
-
What's disc golf to you?
Above all it's hanging out with good friends in nature and having a good time.
Maybe with a can of beer, or two.
It is a hobby, but it often feels
more important than my job. 
-
Forehand or Backhand?
Backhand it is. I suck at forehand. Although I'm not very pro at backhand also. But there is progress in fore too, maybe some day my nickname will be Mforehand.
-
Favorite disc golf course?
There is lot of good courses in Finland. Julkujärvi, Loviisa, Kippasuo for example. And I have a hate love relationship with Käyrälampi which is my home course, but the favourite is TFG Eerola pop up. The TFG Eerola will be built every fall for one day on the golf course and then compete for the championship.
-
Favorite item in your bag?
My putter MERCY zero soft.
And couple cans of beer. 
-
Shoutouts?
@Koskigolf, a damn good golf course,
#TFG, Friends and of course Flying Plate Company.

---