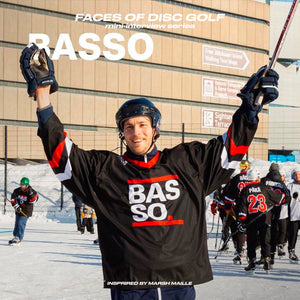 Faces of disc golf - Tuomas "Tuke" Tuomi-Nikula
Who are you?
My name is Tuomas Tuomi-Nikula aka Tuke.
I'm an disc golf enthusiastic, a hockey coach,
a radio host and a neighborhood generalist.

What's disc golf to you?
Above all, it's nice for me to be with friends!
Being in nature and experiences of success.
A great sport that moves people cheaply!
The best!
Forehand or Backhand?
Definitely a backhand.
Throwing backhand has always felt easier.
I also throw this much further and more precisely.

Favorite disc golf course?
Hmm, hard question. Probably Tali.
Although I haven't been there a lot in recent years due to congestion.
The Nummelanharju disc golf course is to my liking
and also Meikku due to its location and relaxed atmosphere.
Favorite item in your bag?
-2 Drivers. Peanuts and a water bottle

Shoutouts?
Big up to Southside Birdgang!
Great gang and great experiences since 2011.
The highlight of the summer is the Ämmä Open in Inkoo on the island,
where a DIY track has been built.
---